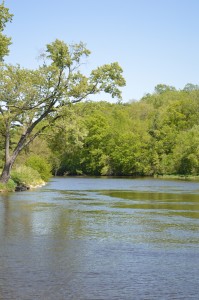 Last week I had the great pleasure of attending two events at the University of Minnesota-Morris – the Bush Foundation Leadership Chautauqua and the Symposium on Small Towns, hosted by the Center for Small Towns.
The Chautauqua was a gathering of people involved with leadership development in communities around the upper Midwest. Bush Foundation, as a funder of many leadership programs, was interested in fostering discussions amongst service providers, funders and participants to improve the quality of leadership development.
The program kicked off on Tuesday evening with a great talk by David Mann on collaboration and communication. Mann came at the subject from a theater background, and used themes from improv theater such as "Say yes" and "commit fully". He's really quite an engaging speaker, and with the event hosted under a tent on the mall of the UMM campus, it was a beautiful way to spend the evening and get into the spirit of the conference.
Wednesday began with a presentation on research into the efficacy of leadership development programs by Kenneth Pigg. Pigg has performed initial studies on community leadership programs in several states. The studies performed thus far have determined that these leadership development programs do improve the leadership abilities of participants. However, most programs struggle with getting their participants to engage in communities following their time in the program.
Just before lunch, we were treated to a performance by the Theater of Public Policy from the Twin Cities. This improv troupe is incredibly talented, taking thoughts and ideas from the world of public policy and turning them into humorous sketches. I will definitely admit to being a policy geek, but I think most people could see the humor and skill involved in what these folks do. The gang of five wove some truly hilarious sketches from our morning discussions on leadership.
The rest of the day was filled with small-group conversations on various topics. I sat in on a couple of discussions about changing paradigms around collective leadership. In most of the discussions throughout the Chautauqua, there was a lot of dissatisfaction with the term "leadership", I think largely due to the shift from a strong-leader model to more collaborative forms of leadership. Being from Wisconsin of course I could offer the example of what can happen when a leader attempts to ignore collaborative approaches. I tried to make the case that perhaps our dissatisfaction with the word stems more from the fact that too many people are stuck in the frame of mind that a leader has the right to ignore the needs of collaborators and followers.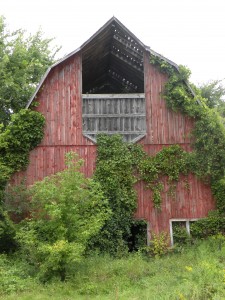 Wednesday evening's dinner was capped off with a great presentation and panel discussion celebrating the sesquicentennial of the Morrill Act, which established the land grant universities. I was surprised how little I actually knew (or remembered?) about the act, which is a move that has radically impacted especially rural areas and people who would have otherwise had difficulty accessing quality education. Perhaps most surprising was that this act was passed during the Civil War. It's kind of humbling to look back and realize that, in the midst of the worst crisis that our country has ever faced, our national leadership was able to bring the power of government to bear and create something truly long-lasting and great.
The next morning we transitioned from the Chautauqua to the Symposium on Small Towns, opening with a poem from Athena Kildegaard. Ken Pigg then gave a more detailed presentation on his leadership studies, followed by a great panel of small town people talking about leadership stories in which they're involved. Much like the Wisconsin Rural Partners Rural Summit, it's great to hear about how much people can accomplish in their communities.
Over lunch we heard from Luther Snow, the creator of asset mapping, regarding leadership in practice. Luther shared a number of good stories from his work in communities around the country. He truly showed his background in asset-based work by focusing on the positive. He's really an interesting speaker!
The afternoon was filled with breakout sessions. I sat in on three great sessions. A group of leadership program alumni from Morris talked about their work in presenting a community forum on government finance and taxation. I think this is an idea that could, and should, be replicated widely. They invited the city manager, county executive and school district administrator to present to people information about how they develop budgets, and how that connects to taxation. One presenter even remarked that he knew little about the topic before doing the forum, and I think that's a pretty common issue.
A second presentation discussed a great project to develop sustainability indicators for the northwest region of Minnesota. I was especially impressed that the effort involved the College of Design to make the indicators simple and easy to understand. Efforts like these have to be backed by an immense amount of data, but often fall down when it comes to presenting the data in easier formats. I think these folks are really on to something.
Next up I sat in on part of a session on generational transition in family-owned business, and what it can mean for small towns. It was a great discussion, but unfortunately I had to step out early to get ready for my own presentation, "Is Social Media Making Our Small Towns Less Social?" (I'll be getting that written up in the next few days.) Following my talk, I sat in on a discussion of small-town main street development by Emily Northey of the Minnesota Main Street program. Lots of great information!
Finally the day wrapped up with a massive group networking exercise, allowing people to post needs and skills in the room so that people could connect with others who might share their same interests. A number of connections were made, and more will no doubt be made when the lists are shared with participants in the coming weeks.
Both of these conferences were really fantastic events. I think I came home with more business cards and more new contacts than I've ever met at a conference. Both events drew a wide range of people, from academia to industry, practitioners to volunteers to community members. As a result, the conversations covered a lot of ground, and really helped me to crystallize my thinking on a number of issues.
Jane Leonard of the Bush Foundation closed out the day quoting a poem from Minnesota's own Bill Holm that I think summarized the whole event perfectly:
Someone dancing inside us
has learned only a few steps:
the "Do-Your-Work" in 4/4 time,
the "What-Do-You-Expect" Waltz.
He hasn't noticed yet the woman
standing away from the lamp.
the one with black eyes
who knows the rumba.
and strange steps in jumpy rhythms
from the mountains of Bulgaria.
If they dance together,
something unexpected will happen;
if they don't, the next world
will be a lot like this one.
Bill Holm